MACUL Speaker Proposal Submission Guide
What We're Looking For
MACUL seeks content that:  
Is focused on individualized and differentiated, student-centered pedagogy that is project, problem or challenge based and supported by the latest brain research on how students learn.
Increases educators' technical knowledge and their pedagogical content knowledge.

Helps develop the leadership skills of students and educators.

Explores systems, models, practices and strategies for achieving digital age learning in formal and informal learning environments, virtually and face to face.

Provides a model for achieving the Michigan Curriculum Standards and ISTE Standards.

Incorporates technical content appropriate for all levels of expertise, from beginner to advanced.
---
Speaker Compensation for Accepted Proposals:
Primary presenters for 60-minute sessions pay a reduced conference registration fee of $50.

Co-presenters of 60-minute sessions are required to register for the conference and pay the regular registration fee.

Two-hour

H

ands-

O

n

L

ab presenters (primary presenter and one co-presenter), receive complimentary conference registrations. Additional presenters pay the regular registration fee.

Spark and Lightning Session presenters pay the regular registration fee.

All presenters and co-presenters pay registration fees for any optional hands-on and preconference workshops they choose to attend.
---
The MACUL Conference Session Proposal Application Process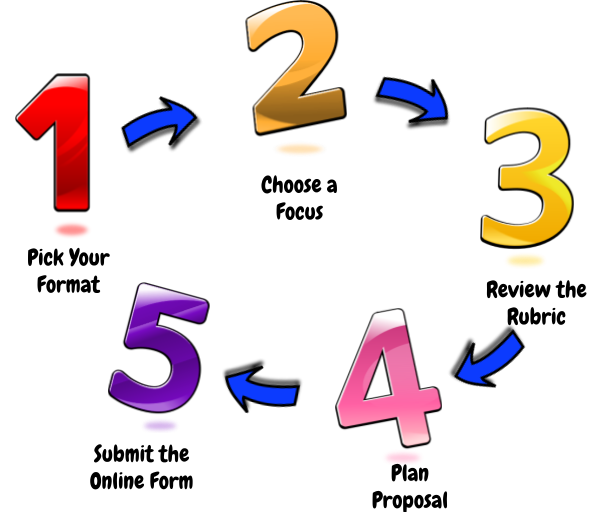 The selection process is highly competitive. In 2015, less than 50% of submitted proposals were accepted. For best results, take time to plan and write a quality conference proposal.
Step 1: Pick Your Format
Choose one of the five session formats:
Listen and Learn: Traditional 60-minute sessions offered by an individual or a team of presenters.  Sessions are informative, focusing on various aspects of educational technology. Attendees sit back and soak up the learning.
Participate and Share: 60-minute sessions offered by an individual or a team of presenters. Audience participants interact with the facilitator and other attendees as they learn. Social/informal in nature, these sessions focus on an identified topic. Attendees network and share ideas with like-minded peers.
Explore and Create: 60-minute sessions offered by an individual or team of facilitators focusing on an identified topic in which attendees bring their own devices, participate in guided hands-on activities and learn by doing. Session proposals must include all app, device, or software requirements in the session description.
Hands-On Lab: Two-hour sessions offered by an individual or a team of presenters in a lab with 24 Macintosh, Windows, or Chromebook computers, pre-loaded with software for the workshop. Participants will actively work with the software or process being explored. Presenters are responsible for providing sufficient software for each computer in the lab. Please note that participants pay an additional fee for these sessions.
Panel Session: 60-minute sessions highlighting Ed Tech topics and concepts. Moderator interacts with co-presenters on an informal panel. Panelists present different perspectives or experiences on the topic. Questions from the audience are encouraged, creating an interactive and dynamic environment.
Step 2: Choose a Focus
Innovative Models for Teaching and Learning covers proven innovative instructional strategies used in the learning environment that have a positive influence on student achievement and engagement.
Leadership addresses developing and articulating a vision and plan for the role of technology in educational programs.
Professional Learning focuses on the development of leaders and the accountability of teachers, administrators and educators.
Technology Infrastructure focuses on the technology, resources and policies necessary to build infrastructure for effective teaching, learning and administration.
Virtual Schooling/E-Learning covers all aspects of designing, choosing, evaluating, and implementing online courses and e-learning experiences for students.
Step 3: Review Session Evaluation Rubric
Session evaluators will be using this rubric during the speaker selection process.
Step 4: Plan Your Proposal
Prepare your proposal in advance using the 2016 Speaker Proposal Planning Worksheet. 
It is recommended that the planning worksheet be used to help write a quality proposal. Your thoughtful responses can be copied and pasted into one of the online forms.
Step 5: Submit Your Proposal Online by October 1, 2015
After you have planned your proposal, choose the form for the appropriate session type and submit your proposal to MACUL:
---
Other Information
Technical Difficulties
If you encounter technical difficulties while submitting a proposal, please contact the 2016 MACUL Conference Speaker Selection Chair, Pam Shoemaker, pam.shoemaker@macul.org
General Conference Information
For general conference information, please refer to the MACUL Conference website at http://maculconference.org or contact the  MACUL office at 517.882.1403 or macul@macul.org.