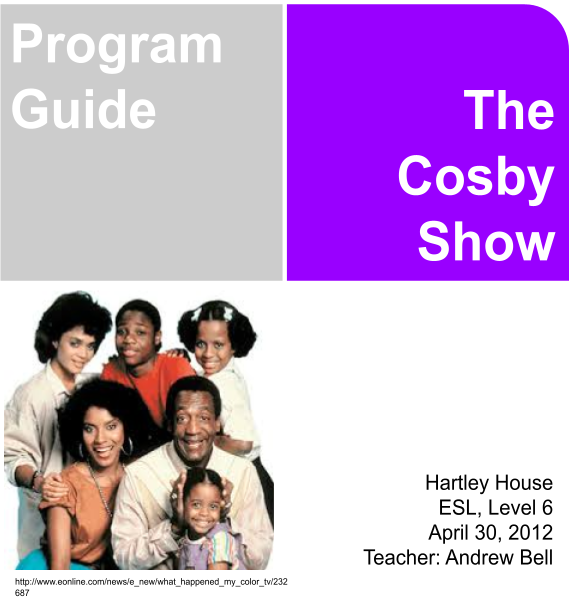 Table of Contents
✪ Trivia (PM: Vlad, Tomoko, Lana, Juan)
An Oral Presentation about Bill Cosby by Tomoko
Comparing how Cliff treats Theo and Denise
✪ Series Synopsis
Authors: (AM)
✪ Character Profiles
Cliff Huxtable
Authors:  (Should Be AM: Altagracia, Dina, Maria S., Selina, Neven, Dariana)
http://thebobofiles.com/wp-content/uploads/2008/08/cliff.bmp 
Portrayed by: Bill Cosby
Entire name: Dr. Heathcliff "Cliff" Huxtable
Job: OB-GYN (obstetrician/gynecologist)
Cliff is an African American doctor, and was 47 years old when the tv show started. He became a doctor because his brother died at the age of 7 from rheumatic fever.
He is an OB-GYN who works in a hospital  and sometimes from the basement of his house. He likes jazz, sports, and dance.
Cliff is married to Clair who is a lawyer. They have five children and live in Brooklyn, New York.  He is an eccentric, funny, understanding, kind-hearted, silly and dedicated father.
Cliff is good at talking with his children and teaching them to solve problems.
Clair Huxtable
(Should Be: AM: Marta, Isabel, RuXia, Mikhail, Manli)
http://www.tvloop.com/the-cosby-show/show/photos/top10/clair-huxtable-2059 
Portrayed by: Phylicia Rashād
Entire name: Clair Olivia Huxtable
Job: attorney
She is a very elegant, beautiful, smart woman. She is a successful lawyer. She is 40 years old when the series started. During the series,she became a partner in her law firm. She has a lot of work outside and inside because of her five children. So sometimes she feel stressed and tired. Although she is a strict mother,she is careful with her children and her husband. Clair is the glue which keeps the family together.
Rudy
Authors: Marion, Parn, Estela, Mila, Juan, Albina, Gulzhar - AM Class
http://www.tumblr.com/tagged/rudy-huxtable 
Portrayed by: Keshia Knight Pulliam      
Entire name: Rudith Lillian Huxtable
Job: Student
Rudy is the youngest of the Huxtable children. She was born in 1979. At the beginning of the series, she was 5 years old. She is a sweet person -- cute, adorable, nice, friendly, obedient, etc. Moreover she is curious, quick-learning and smart. Though sometimes she was chosen to be annoyed by Theo, she fought back.
Vanessa
Authors: Ana, Anabella, Ronny - AM Class
Portrayed by: Tempestt Bledsoe
Entire name: Vanessa Huxtable
Job: Student
She is the third daughter of Cliff and Clair. She was born in 1973 and was eleven years old when the sitcom was aired for the first time. She is a very good student and  even went off school one year earlier to go to College.
Vanessa is usually considered to be intrusive; she is always trying to find out what is going on in their house, especially when it involves her siblings (with whom she often fought with) in trouble with their parents.
The character is clearly based on Cosby's daughter, Ensa, who was almost the same age as Vanessa.
Theo
Authors: Ula, Gilla, Natsue, Hua - AM Class
Portrayed by: Malcolm-Jamal Warner
Entire name: Theodore Aloysius Huxtable
Job: Student
He is the only son of Cliff and Clair. He was born in 1970. He was 14 years old when the series begins. Theo does not like to study, his grades are so poor. He has a smart mouth. Even though his grades are bad, he doesn't take it seriously. He usually says "No problem". He thinks just to impress girls. He is a kind of troublemaker, always making fights with his younger sisters.
Denise
Authors: Priscilla, Francine, MJ - AM Class
http://classictvbeauties.com/lisabonet.html 
Portrayed by: Lisa Bonet
Entire name: Denise Huxtable Kendall
Job: Student
Denise is the second daughter of Cliff and Clair. She is a good student and helps a lot to her family. She loves fashion and music, and she changes her hairstyles and wears different fashionable clothes or hats almost every episode. She is quiet, but very determined. It's always her own decision that breaks up with her boyfriends every time. Her parents finally accepted her marriage to a divorced single father whom she met in Africa during her college project. Denise's favorite flower is the tulip.  
Sondra
Authors: Vlad, Tomoko, Lana, Juan - PM Class
Portrayed by: Sabrina Le Beauf
Entire name: Sondra Huxtable-Tibideaux
Job: Lawyer ?
The eldest daughter appeared later in the first season and was a representation of a well brought up child in all her intellectual maturity and own family success.
She is looked upon by her parents proudly but also is compared against higher standards by them. She graduated from Princeton University and married her boyfriend Elvin. Sondra had a bizarre moment while taking some time off from law school to open a wilderness store, but got back on track relatively quickly.
Character is based on the Cosby's elder daughter Erica who was about the same age.
Quotes: (9)
"The Cosby Show: Nightmare on Stigwood Avenue (#7.22)" (1991)
Sondra: Here you are, Olivia, three tickets to the Jackson concert.
Olivia Kendall: Which Jackson?
Olivia Kendall: Whichever Jackson you like.
"The Cosby Show: Call of the Wild (#4.1)" (1987)
Sondra Huxtable Tibideaux: Mom...
Clair Huxtable: Yes?
Sondra Huxtable Tibideaux: I'm not going to law school
Clair Huxtable: [Trying to be calm] What?
Sondra Huxtable Tibideaux: I decided not to go to law school
Clair Huxtable: What do you mean you decided not to got to law school?
Sondra Huxtable Tibideaux: Well this is our dream. So I'm going to take a temporary job while the Wilderness Store opens then I'll be working side by side with my husband
Clair Huxtable: Sondra what are you saying? You have always wanted to go to law school, you havn't talked about anything else!
Sondra Huxtable Tibideaux: I changed my mind
Clair Huxtable: Change it back! After all that money we spent sending you to Princeton? Sondra, you owe US seventy-nine thousand six hundred and forty-eight dollars and twenty-two cents! And I want my money NOW!
"The Cosby Show: The Getaway (#8.17)" (1992)
[Winnie and Nelson wants to go to the new house and help the rest of the family unloading]
Sondra Huxtable Tibideaux: Oh no, kids. You gotta stay here with grandpa and have a special memory day, okay?
Winnie Tibideaux: But you said that if we stayed in this house any longer we'll go crazy.
"The Cosby Show: Cliff's 50th Birthday (#3.20)" (1987)
Sondra Huxtable Tibideaux: Turning fifty is a monumental occasion in a man's life.
Cliff: Oh, Lord, who let this child in the house?
"The Cosby Show: It Comes and It Goes (#5.20)" (1989)
Sondra Huxtable Tibideaux: Elvin, please don't call me "Muffin".
Elvin Tibideaux: Oh, I'm sorry... Puffin.
✪
Top Ten Episodes
(who wrote this?? ~Andy)
1. Season1 episode 1 "The pilot presentation" (put your name here)
2.           episode 18 " Vanessas New Class" (is this your idea? or wher eis it from?)
✪ Trivia
(PM: Vlad, Tomoko, Lana, Juan)
Whitney Houston was originally offered the role of Sondra. (7)
Phylicia Rashad (Clair) is only ten years older than Sabrine Le Beauf (Sondra). (3)
In the first few episodes of season one, Theodore is referred to as Teddy, a nickname that is never used again. He is called Theo thereafter. (3)
Rudy was originally going to be a son, girls were allowed to audition because a suitable boy could not be find. (3)
The show was rejected by ABC but later picked up by NBC. (3)
The façade of the Huxtables' home is located at 10 St. Luke's Place in Manhattan. The family is supposed to live in Brooklyn though. (3)
At first the show was rejected by ABC but picked up by NBC later when it became a huge success. (3)
"Different World" is a spin off of The Cosby Show. (8)
Sondra attends Princeton University.  Denise does not complete college. (8)
Cliff had a brother, but he died as a child. Theo was named after him. (8)
The show was filmed in NY because Bill Cosby didn't like to work in Hollywood. (3)
Bill Cosby opposed the competition between performers of Cosby Show so no one received an EMMY Nomination for his acting on the series. (3)
✪
Comments
I would recommend this TV show because I think it's a good way to learn about the American culture in general, but more important is that it was one of the first TV shows that showed the African American way of life in another way. The previous TV shows and movies usually showed the black people in a derogatory way: they used to appear like lazy, silly, funny (buffoonery),... people. I think that the Cosby Show was an opportunity for all people to see that the African Americans are not less than the rest of the people in this country.
Juan Ude
The show comes from the extraordinary abilities, professionalism, and experience of Bill Cosby. It was not filmed in front of a live audinece and it has been edited; this was something new for comedies at the time. However, the keystone is a black successful family which started to be accepted by white people and followed by more and more black people as an example.
Lavd
I didn't know the Cosby Show before I was in the class. After I watch the show, I loved it. Now I watch the show during my free time a few times a week on youtube before I go to school or before I go to bed. Sometimes I share with my older sister because the English in the Cosby Show is easier to understand. Also, some parts are funny. We don't watch a lot of American tv shows; we watch a lot of Chinese shows. Now, instead of always watching Chinese shows, we can watch the Cosby Show together to improve our English.
Amy
I like The Cosby Show because it is filled with positive messages. When the family has some problems, they work hard to solve them together. In addition, the show includes lots of humor and educational elements. When people watch the show, they will laugh together and they can learn something positive from the show. As an ESL student, I'd like to recommend others to watch the show because they can learn more about American culture. An important way to learn other languages is to learn and understand their own cultures. The more we understand American culture, the easier we will learn English. Moreover, it helps us use English appropriately in our daily lives.
Gilla
The Cosby Show shows me a different side of African-American family life that was not usually shown before, and it also helps me to understand American culture. I didn't know about this show before I watched it in class. I learned a lot about the Huxtable family and I think the parents do their job quite well as parents; they know how to help their children and then solve problems with their kids together.
Dina
I like the Cosby show because through the show we can see that an African-American family's ordinary life is similar people's lives all over the world, without regard to color. Their is a generation gap between the parents and children and their is sometimes conflict as a result. Through these stories we can more easily accept and understand American culture.
Connie
I like the Cosby Show because it's a kind of family that all of us would like to have. They have their problems, but they always have a solution! The father, played by Bill Cosby, is very funny and always happy. I think that's the reason why this show was really famous; it shows us life in a better way.
Anabella
I like The Cosby Show because it is a lovely family show. It is good to see a show that has the "picture of a perfect happy family". It is an example of a wonderful family that everyone wishes to have, no matter what race we are. I love the messages we can learn from them. Bill Cosby is a hilarious actor, so I like a lot this show.
Ula
I like the Cosby Show because it is a funny,smart, and intelligent show. It presents the everyday life not only in an African American family,but also in a successful American family.It teaches people how to deal with family relationships and make a family more compatible.It is close to real life,so we can learn more about Amercian culture.
Ruxia
I really like The Cosby Show. I just could not stop when I watched its episodes on Youtube. It's a very lovely family show that transcends race and ethnicity and it gives people good dreams and hopes. That might be one of the reasons why so many people like it.
Priscilla
I agree that the positive message of the Cosby Show is one of the reasons that is was so popular; and you absolutely right. The show has a universal appeal.
Andy
✪
Where Are They Now?
Bill Cosby (Cliff Huxtable) is now...(PM: Mariia, Isabel, Nga, Connie, Jonas)
After portraying Dr. Cliff Huxtable in the Cosby Show, Bill Cosby went on to play different roles in other TV shows. Lately he has stopped acting and has been doing different jobs: writing books, hosting events, speaking at schools, going on comedy tours, and giving concerts around the country. (http://goo.gl/xFKjO)
Despite being 72 years old, Bill Cosby is still active in the African-American community.
As an actor, he has had a career for more than five decades.
He is currently in Fat Albert and the Cosby Kids, the TV show he started in 1972 (The series originally finished in 1985, however, imdb.com states that he is currently working on the project again). (http://pages.citebite.com/o2h1f3gcqub) Prior to that, he had played different roles in a range of TV shows and movies: Obkb, Sylvia's Path, Becker, Touched by an Angel, Little Bill, Jack, I Spy Returns, The Cosby Mysteries, The Meteor Man, The Cosby Show, Ghost Dad, Leonard Part 6, A Different World, I Spy, The Bob Hope Show, etc.
Cosby has always been connected to music. Currently, he performs as a jazz drummer in some concerts around the U.S. (www.billcosby.com). Previously, he composed the theme music of several TV shows, including "The Cosby Show" in 1984.
He has been involved in several events in the past few years. Most recently, in 2009, Bill Cosby hosted the Just for Laughs comedy festival in Canada and for that, he received the Mark Twain Prize for American Humor. (http://goo.gl/0Unb9)
He is also a writer. In 2007, he released his latest book, co-written with Prof. Alvin F. Poussaint, "Come On, People: On the Path From Victims to Victors."
(http://www.imdb.com/name/nm0001070/bio)
Phylicia Rashād (Clair Huxtable) is now....(PM: Mariia, Isabel, Nga, Connie, Jonas)
After the Cosby Show finished, Phylicia Rashad acted in several Broadway productions. She became the first African-American actress to win the Tony for Best Performance by a Leading Actress in a Play in 2004 for Raisin in the Sun. Later, she acted in another TV sitcom  "Everybody Hates Chris."
In 2007, she  directed "Gem of the Ocean" at the Seattle Repertory Theatre (http://www.imdb.com/name/nm0711118/bio). Recently, she was a spokesperson for the Jenny Craig weight-loss program.
Keshia Knight Pulliam (Rudy) is now....(PM: Caterina, Darlyn, Yoshiko, Burcu)
Currently, She has acted in TV show "Tyler Perry's House of Payne.
In 2010,She appered in TV show "Psych"and in 2009, she had starred in the movie"Madea Goes to Jail". Prior to that she acted as Guest role in different kinds on TV shows,"Herlem Hight"and "Christmas at Water's Edge.
http://en.wikipedia.org/wiki/Keshia_Knight_Pulliam
Tempestt Bledsoe (Vanessa) is now...(PM: Caterina, Darlyn, Yoshiko, Burcu)
Most recently in 2010, Tempestt continues as guest role in TV show "Clean House" as Niely Nash. Prior to that she had starred on VH1's"Celebrity Fit Club". Before that she appeared in different kinds of shows like"The Parkers" and "The Practice". In the mid-1990's,she had a regular job in day time talk show "The Tempestt Bledsoe Show".
http://en.wikipedia.org/wiki/Tempestt_Bledsoe
Malcolm-Jamal Warner (Theo) is now...(PM: Matew,  Clarisa, Yayoi, Minh)
He is an American television actor, film director , musician and live poetry readings.He has been acting a lot of TV shows, but he has been best known as Theo Huxtable in the Cosby show.He has starred in more than 40 TV shows and he also directed music and public health  videos  
Currently, he is acting as Andre Bennett in the TV series "Community", he character in it references his Cosby Show.Most recently in 2011,he starred as Dr Alex Reed in the comedy series "Reed Between the Lines" and he was nominated for Outstanding Actor in it and won the Image awards for his acting.
www.imdb.com/name/nm0912528
en.wikipedia.org/wiki/Malcolm-Jamal_Warner
Lisa Bonet (Denise) is now....(PM: Matew,  Clarisa, Yayoi, Minh)
Lisa Bonet has been well known for her role as Denise Huxtable in the Cosby Show.She not only has been in some TV shows she has played in several films as well.She was nominated for some film awards and she won the Best Young Female Superstar in Motion Pictures in "Angel Heart"
Currently, she is filming "Road to Paloma", playing the role of Magdalena.
Prior to that, she appeared in TV series  "Life on Mars" in role of detective Maya Daniels, in TV Movie "Lathe of Heaven" in role of Heather Lelache and in Whitepaddy. 
http://en.wikipedia.org/wiki/Lisa_Bonet
http://www.imdb.com/name/nm0000956/
Sabrina Le Beauf (Sondra) is now...(PM: Vlad, Tomoko, Lana, Juan)
After "The Cosby Show", Sabrina Le Beauf appeared on "Star Trek: The Next Generation" and voiced a character in the animated series, "Fatherhood,"  and played lead roles in the Shakespeare Theatre Company in Washington, D.C. Lately she has been focused  on her own interior design business.
✪ Special Features
An Oral Presentation about Bill Cosby by Tomoko
http://www.scribd.com/doc/92621420/Bill-Cosby-by-Tomoko-May-2012
Comparing how Cliff treats Theo and Denise
Dina (AM)        The father was disappointed about his son's bad grades; in the same way , he was upset about the behavior of his daughter's boyfriend.
Selina (AM)         Cliff had an equal relationship with Theo in that he was open minded to talk with him. With Denise, however, the relationship was unfair because he asked her to change the outfit by his own judgment.
Karolina (PM)        The father loves Denise and Theo very much; however, sometimes he is strict with them.
Juan (PM)        The father won the argument with his son, on the contrary he lost with his daughter.
Nga (PM)        The father was upset with both of his children but he let Denise do what she wanted and didn't do so with Theo.
Matew(PM)        The father loves both children, Theo and Denise, yet he understands necessary features of the relationships with each of them.
Manli(AM)        He is concerned about his son's future; on the other hand, he is worried about his daughter's dating.
Minh (PM)        The father was angry with Theo and Denise, but he was gentler with his daughter than his son
Burcu(PM)        The father convinced Theo to do what he wanted; on the other hand he didn't persuade Denise not to go out with her boyfriend.
Altagracia(AM)  Cliff had a more equal relation with Theo; however with Denise, he was more hierarchical.
Tomoko(PM)        The father is much more patient with Theo. He tries to persuade him to go to college.  However, He is not as patient with Denise.
Minh (PM)        The father loves his children very much but he treated them with different ways
Mila AM        The father loves both children equally, although he doesn't have a good connection with Denise like he has with Theo.
Monica  (PM) Cliff Huxtable is a very kind and strict  father he shows strong sense of humor with Denise and Theo. But he is harder  with with  Denise.
Vlad (PM)        Father is strict with Theo and Denise but friendly and sarcastic.
Ana (AM) In both situations, dad finished the conversation with hugs and kisses.
Priscilla(AM) Cliff loves both Theo and Denise, but he has higher expectations of his son than of his daughter.
Ula(AM)        Cliff is a lovely father,but he shows a strict attitude.
✪ Culture impact
> Click here to watch the video
Through The Cosby Show, people of all ages were inspired to laugh through the hard times, appreciate what they have, and respect other people. We learned the importance of education, respect, honesty, hard work, financial responsibility, social justice, racial harmony, self-respect, pride, and the value of family and friends.
Read more at Suite101: The Cosby Show's Impact on American Culture
 http://www.cracked.com/funny-769-the-cosby-show/
✪ Resources
Online Resources
   10. http://www.cracked.com/funny-769-the-cosby-show/
Contributors
(Students)
Caceres, Estela

Chabord, Francine

Chen, Dina

Cho, Gill A

Dangioli, Ana

Gampel, Marion

Khalil, Neven

Kopczynska, Urszula

Lee, Selina

Liu, Yongchun

Malkin, Albina

Malkin, Mikhael

Martinez, Marta

Minuche, Ronny

Moquete, Altagracia

Nagata, Natsue

Plengratana, Yossawadee

Ramirez, Isabel

Schmutter, Mila

Sempertegui, Maria

Son, Myoung Jin

Teixeira, Anabella

Trivino, Juan

Utyubayeva, Gulzhar

Williamson, Dariana

Xiao, Manli

Yang, Hua

Zhang, Ruxia

Alvarez-ude, Juan

Benalal, Clarisa

Giacometti, Simone

Grajales, Darlyn

Hamada, Yoshiko

Jorge, Patricia

Kang, Connie

Kashiwagi,Yayoi

Kopylov, Vladislav

Lee, Rachel

Mazzoni, Caterina

Meci,Burcu

Moghadam, Bita

Moquete, Altagracia

Nguyen, Nga

Perez, Juan

Rivera, Monica

Rodriguez, Oscar

Roleder, Karolina

Startseva, Lana

Suris, Matew

Svyrydenko, Mariia

Toleikis, Jonas

Vidal, Isabel

Vu, Minh

Wakabayashi, Tomoko

Zheng, Amy