School of Education Conceptual Framework
"Effective Facilitators of Learning"
VISION STATEMENT
Edinboro University prepares highly qualified teacher candidates and related professionals who effectively facilitate student learning. Through knowledge, skills, dispositions, experiences, and understanding of our diverse and global society, our candidates successfully contribute to the future of their students, to their own professional development, and to the well-being of the larger community.
BELIEF STATEMENTS
The successful professional education program prepares educators and related professionals who . . .
Accept the requirement to build a civil society that focuses on respect and embraces diversity.

Demonstrate pedagogical skills built on a solid foundation of discipline-specific content, reinforced by a broad liberal arts education, and supervised clinical experiences.

Effectively utilize community resources to support the educational and personal growth of learners.

Engage in a professional learning community committing themselves to excellence, continual study, practice, reflection, and self-improvement.

Exhibit continual informed decision-making, planning, and facilitation of learning based on knowledge of research, best practices, state and national student performance standards, and ethical standards of the profession.

Give back to the community through civic action.

Lead and monitor all student learners using motivational and management skills.

Recognize the importance of technology and are able to utilize current and appropriate technology for instruction, administrations, and facilitation of learning.

Strive for congruence of professional and interpersonal dispositions to interact, communicate, and collaborate effectively with students, families, colleagues and the community.

Utilize personal creativity, flexibility, and skill in assessing, creating, and adapting instruction that provides opportunities for every student to be successful.
Course Rationale: SEDU 183 Tech for Teaching and Learning
"Technology ushers in fundamental structural changes that can be integral to achieving significant improvements in productivity. When used to support both teaching and learning, technology infuses classrooms with digital learning tools, such as computers and hand held devices; expands course offerings, experiences, and learning materials; supports learning 24 hours a day, 7 days a week; builds 21st century skills; increases student engagement and motivation; and accelerates learning. Technology also has the power to transform teaching [and learning] by ushering in a new model of connected teaching [and learning]. This model links teachers to their students and to professional content, resources, and systems to help them improve their own instruction and personalize learning." (U.S. Department of Education)
Catalogue Description: This course is an educational technologies course for pre-service teachers. The content is based on the International Society in Technology Education (ISTE) National Education Technology Standards (NETS). Participants are exposed to a blend of theoretical and practical applications of technologies. There is a focus on instructional technologies, diverse settings, and differentiated instruction. This course is approved for General education: Computer Competency.
Course Description: To ensure a quality learning and pre-teacher experience, this course aims to promote personal learning networks and professional learning communities while modeling teaching and learning best practices that are collaborative, inquiry based, student-centered, and project orientated. This course is an exploration of current and emerging technologies that may or may not have the power to transform teaching and learning. Based on the International Society in Technology Education (ISTE) and the National Council of Accreditation of Teacher Education (NCATE) standards, participants consider these technologies in the continuum of their own learning experience and their future teaching paradigm.
Course Objectives:
| | | | |
| --- | --- | --- | --- |
| The participants will . . . | | | CF |
| | 3, 5 | 4 | A |
| share and discuss topics, reactions, opinions, and learning experiences. | 3, 5 | 1 | A |
| | 4, 5 | 3, 4,9, 10 | A, D, H, I |
| | 3 | 6, 7, 8 | E, H, I |
| | 1, 2 | 9, 10 | H,J |
| demonstrate literacy in terminology related to educational technology, computer hardware, and computer literacy. | 3 | | D |
| | 1, 2 | 4, 5, 6, 7, 8 | B |
| | 4, 5 | 9, 10 | H, I |
NETS – National Education Technology Standards, InTASC – Interstate Teacher Assessment and Support Consortium, CF – Conceptual Framework
Course Expectations:
The Instructor expects Participants will . . .
actively participate in the blogosphere and the personal learning network.

be punctual, present, prepared, and actively engaged in every course meeting.

ask questions to ensure clarification and understanding.

communicate in advance with the instructor prior to class if you will be absent and follow up with the instructor and D2L

communicate with the instructor in advance of course meeting times if you are seeking clarity on an assignment.

submit all assignments in the required format and meet all assignment deadlines.

reflect on class activities and assignment according to Curriculum Framework belief statements.

behave appropriately and respectfully.

be honest and honorable in all aspects of your participation and production in and outside of this course.
The Participants should expect the Instructor will . . .
actively participate in the blogosphere and the personal learning network.

be punctual, present, prepared, and actively engaged in every course meeting.

question all participants.

provide several modalities for communication and counseling for every participant.

design lessons and assignments that are grounded in the beliefs statements of the Curriculum Framework and that meet and challenge the needs of each participant.

provide constructive and timely feedback and evaluation.

respect all participants.

protect the learning environment by dealing fairly and swiftly with errant issues within the class.

be honest and honorable
Evaluation and Assessment:
Assessment and Evaluation in this course will primarily come from group evaluations and project based assessments. All projects and group activities have an assigned rubric. There are 3 levels of assessment each increasing with the degree of difficulty, time, and labor requirements of the assignment: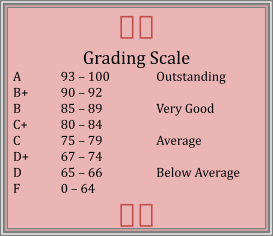 Level 1: 10 – 20 points (Reading checks, Exit slips, Show What you Know Activities);
Level 2: 50 points (Extended Responses, Informal Presentations, Quizzes);
Level 3: 100 – 150 points (Formal Writings, Group Projects, Formal Blog Reviews, Final Exam)
Blog Assignments: For this course you will create, maintain, and publish a weekly blog. Throughout the semester you will be asked to respond to topics, reflect on projects and assignments, and promote and evaluate educational web tools and resources. In addition, you will be assigned 5 peer blogs where you will respond to, comment on, and provide authentic feedback for. Your blog and community participation will be evaluated 4 times throughout the semester using a rubric.
Group Projects: Collaboration is vital in today's learning environment and workplace. During this situated learning, we will discuss group dynamics, expectations, and outcomes. There are 3 (Podcasting, Wiki, Google Docs) group projects in which you will collaborate with members to complete the assigned task. Each project grade is comprised of two assessments: the artifact and individual group participation. These two grades are averaged to determine your individual final project grade.
Course Policies
Attendance Attendance will be completed each class meeting in accordance to Edinboro University Policy. For T – TH classes, more than 2 unexcused absences will affect the final grade. Class absences for university functions are excused only when advance notice and official verification is given. In an emergency, or for an illness requiring an extended absence, notify the Student Support Office (732-5555, Ext. 234) so that all of your instructors can be notified of the reason and duration of your absence by email. However, a phone call or email indicating an absence is not an automatic excused absence. Medical excuses from doctors must be presented in order for an absence to be considered excused.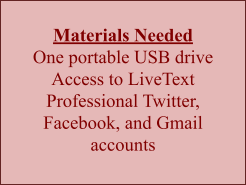 Blogging and Your Blog You will create and maintain a web blog throughout this course. Nearly every discussion, assignment, artifact, and reflection will be posted and/or situated on your blog. When you blog, please understand this is a professional iteration of your academic ethos. Be honest, reflective, accurate, and appropriate. A successful blog is dynamic, timely, and interesting. Your blog will be formally evaluated four times throughout the semester.
Due Dates/Submissions/Late work Be aware of all due dates and project benchmarks. If you are absent during a group project session, your grade will be affected. All assignments will and do not have the same conditions for presentation and submission. However, all formal papers, and blog references must follow the 2009 MLA formatting rules – see EXAMPLE. Late work is accepted. However, a 10% professional deduction will be made if an assignment, post, benchmark is missed. You may not turn in an assignment if it is 3 calendar days past the due date.
Professionalism in and outside of the class is expected. Participants are expected to be trustworthy, respectful, responsible, fair, caring, and good. Dishonesty, cheating, plagiarism will be processed in full accordance with the policies of the Education Department and Edinboro University of Pennsylvania.
Diversity Diversity includes recognition differences among groups of people and individuals based on ethnicity, race, gender, religion, exceptionalities, sexual orientation, socioeconomic status, and geographic location. Throughout this course lessons, activities, demonstrations, and lectures will include suggestions and experiences for candidates to acquire and apply the knowledge, skills, and dispositions necessary to understand how children learn and develop, and provide learning opportunities that are adapted to diverse learners.
Technology usage in the classroom and outside of the classroom is encouraged. Please bring your phones to class; participants will use these in coursework, and bring your own laptops and tablets. Be sure they are vetted through the technology office. You are also responsible for maintaining all of your login information. I don't now want to waste time in class on these issues. Solve them yourself through the technology office on campus. Please keep in mind when in the classroom, there will be times when direct instruction or whole group discussions will necessitate your complete attention and not require technology. I ask that you keep in mind this general rule while in class: All technologies during class time are used for educational purposes and not for entertainment. Participants are asked to be respectful of this policy. Abuse will be dealt with individually. Students changing control panel settings or deliberately erasing a resident file will be denied further use of the computers and assigned a seat away from the computers. The computer keeps a record of when actions are taken.
Mastery Learning is the idea that virtually all students, provided suitable provisions can be made in the time allowed for learning and provided that the quality of instruction be held at a high level (Gagne). Students can resubmit work until the ability level demonstrates a mastery. You are able to resubmit any and all assignments only if the original assignment meets the following requirements for resubmission: you have met with Mr. Smith to clarify expectations and understandings, the original assignment was submitted on time, and the original assignment meets the minimum expectations and requirements. You have 1 week to resubmit the work. If the assignment was a group activity and your group decides it does not want to resubmit, you may complete an alternate assignment of equal expectations and objectives.
Student Centered Learning is a key to the success of this classroom. My intention is to place the tools, objectives, and the problem in front of you and allow you the autonomy to seek your own understanding. I believe that knowledge is constructed by students and that the [teacher] is a facilitator of learning rather than a presenter of information (Rogers). Here are the characteristics of my classroom (Lea et al):
The reliance on active rather than passive learning.

An emphasis on deep learning and understanding.

Increased responsibility and accountability on the part of the student.

An increased sense of autonomy in the learner

Interdependence between teacher and learner.

Mutual respect within the learner/teacher relationship.

A reflexive approach to the teaching and learning process on the part of the teacher and learner.
Equivocation and Philosophy
I opened this document with objectives first to set the stage for the things you will do and learn. What is missing is the equivocation. Yes, you will at times seem lost. Yes, you will work hard and find it difficult working with others. Yes, you will struggle. But know that you started this journey because something or someone ignited a passion for learning within you. If you approach this experience with humility and grace, but more importantly, as a learner, the hard work and the struggles will have been purposeful and the experience so much richer. I believe that as much as you can learn from me, I can learn from you. In our class and in your education always be a risk taker, seek discomfort, and ask questions.
Respectfully,
Marc Smith
Course Schedule
The following schedule is subject to change at the discretion of the instructor according to time constraints, resource availability, and student needs. Please refer to this as a guide.
Week

PLN

Activities and Topics

Assessments

CF

1

Introduction

Intro to Class and Blogging; What is a PLN? Introduction of text

Setting up Blog (Level 1 10 points); Blog Lesson 1 (Level 1 25 points); Post "The Power of Networked Learning"

C, D, E, G, H, I, J

2

Chapter 1

Blogging continued/Lesson Planning

Post "Understanding the Power of PLN's

C, D, E, G, H, I, J

3

Desktop Publishing: Doc, Exl, PPt

Lesson Artifact; Reflection Post;

C, D, E, G, H, I, J

4

Chapter 2

Web 2.0 - tools and gadgets; Tool Discovery Project

Blog Eval (Level 3 100 points);

C, D, E, G, H, I, J

5

Digital Imaging; Tool Discovery Presentations

Lesson Artifact; Reflection Post

C, D, E, G, H, I, J

6

Open Source Resources

Article Response Post

C, D, E, G, H, I, J

7

Podcasting; Tool Discovery Presentations

Post "Becoming a Networked Learner" Reflection Post

C, D, E, G, H, I, J

8

Chapter 3

Podcasting

Podcast Project Artifact; Lesson Artifact and Post

C, D, E, G, H, I, J

9

Video Blogging/VideoPSA;

Tool Discovery Presentations

Post "Implementing a Networked Classroom"

Individual Vid/Blog; Blog Eval (Level 3 100 points)

C, D, E, G, H, I, J

10

Video PSA/Presentations

PSA Project Artifact

C, D, E, G, H, I, J

11

Chapter 4

Hardware: Tablets, laptops, Scanners, Whiteboards

Tool Discovery Presentations

C, D, E, G, H, I, J

12

Google Docs Project

Post "Becoming a Networked School"

C, D, E, G, H, I, J

13

Your 21st Century Classroom Project

Blog Eval (Level 3 100 points)

C, D, E, G, H, I, J

14

Chapter 5

Workshop

Post "Ensuring Success of Learning Network Adoption"

C, D, E, G, H, I, J

15

Epilogue

Workshop

Epilogue Post

C, D, E, G, H, I, J

Exam

Present to Group

Final Exam/Group Rubric

C, D, E, G, H, I, J
Statements A, B, are embedded in Mr. Smith's daily lessons and practice as he models and utilizes his teaching practices and skills to deliver and create a student centered classroom. Due to the nature of this course, students will be giving back to an online community by voicing their understanding on their blogs and sharing this with the community at large as a resource.
References
Christensen, Linda. Teaching for Joy and Justice: Re-imagining the Language Arts Classroom. Milwaukee: Rethinking Schools Publication, 2009. Print.
Hayes-Jacobs, Heidi, ed. Curriculum 21: Essential Education for a Changing World. Alexandria, Virginia: ASCD, 2010. Print.
Marzano, Robert J. The Art and Science of Teaching: A Comprehensive Framework for Effective Instruction. Alexandria, VA: Association for Supervision and Curriculum Development, 2007. Print.
Pitler, Howard, Elizabeth Hubbell, and Matt Kuhn. Using Technology With Classroom Instruction That Works. N.p.: Assn for Supervision & Curriculum, 2012. Print.
Prensky, Marc. "Don't Bother Me Mom, I'm Learning!": How Computer and Video Games Are Preparing Your Kids for Twenty-first Century Success and How You Can Help! St. Paul, MN: Paragon House, 2006. Print.
"A Public Dialogue about Belief - One Essay at a Time." This I Believe. Ed. Allison Jay. National Public, n.d. Web. 27 Aug. 2012. <http://thisibelieve.org/>.
Richardson, Will. Blogs, Wikis, Podcasts, and Other Powerful Web Tools for Classrooms. 3rd ed. Thousand Oaks, CA: Corwin, 2010. Print.
Simkins, Michael. Increasing Student Learning through Multimedia Projects. Alexandria, VA: Association for Supervision and Curriculum Development, 2002. Print.