Oak Hill Middle School

40 Ball Park Rd.

Sabattus, Maine 04280

Telephone:  375-6961

Office Secretary:

Val Safford

Principal:

Benjamin Wilson

Assistant Principal:  

Jarrod Dumas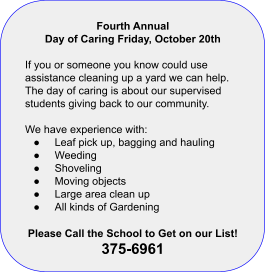 August 1, 2017
Dear Families and Friends of the OHMS Community,
Returning to school after a long break of hot days and time with family and friends can be bittersweet. Just like the last day of school in June, there comes a time when the routine of school is a welcome event. The first few weeks of a new school year are always the most exciting. Students are anxious to see friends, tell their favorite teachers stories of summer adventure and face new challenges.  
As we come together to start this new year, I hope you will:
Take advantage of what the school has to offer. Take the bus, eat breakfast, go slow and make sure you understand what you need to do to succeed.          
Study hard and do your homework – you will be amazed at how much success you can find when you work toward your goal.

Select friends who are good for you – you will find yourself stronger and capable of

making

better decisions when your friends expect you to do good things, too.

Join clubs,  athletic teams, or participate in an activity – you will find something at OHMS that suits your interests. If you do not see something for you, then see what you can do to create something new for you and your friends.          

Ask good questions – you have access to so many positive resources at OHMS for academic and personal growth. Do not be afraid to ask any question you have because there are many people here who would love to support you.

Come to school each day ready to learn with the knowledge that during the day you will smile, get excited,

and

make  new memories that will last a lifetime.        

Have Fun!
We have a few new faces joining us this year from around the state:
J.P. Lambert is teaching 7th grade math this year.
"I grew up in Buxton and have spent the last 13 years teaching at Bonny Eagle Middle School. I moved to Sabattus over the summer with my wife Laurie, 5 year old son Ben and our golden retriever Brooksy. I enjoy playing golf, watching Red Sox and Patriots games, camping and spending time with family and friends. I look forward to getting to know the community members of RSU 4 and the teachers and staff at Oak Hill Middle School." 
Deirdre Dosedlo is the Special Education teacher for 7th grade.
"My name is Deirdre Dosedlo and I am an original Mainer. I grew up in Winthrop, Maine and attended college at The University of Maine at Farmington (UMF). At UMF I majored in Special Education and minored in Rehabilitate Services. Ever since I was a little girl, I always knew I wanted to be a teacher. I would convert my parents' living room into my classroom and anyone who walked by automatically became my "student". I also had stuffed animal students and from time to time my dogs would get a math or English lesson. Luckily for my fiancee I have stopped "capturing" people to fill the role as my students! I am excited to join the wonderful team of teachers at OHMS and I cannot wait for a great year!"
Molly Menice is our new Health Educator this year.
Molly is a graduate of the University of Maine at Farmington. She is from the Monmouth area and has spent a lot of time coaching local athletics as well as working in local summer camps. We are looking forward to Molly's energy and excitement as well as her experiences working with middle school students.
Abigail Leavitt is joining us as our school nurse.  
Mrs. Leavitt has been a school nurse for several years in the Portland School system.
There is a lot happening at OHMS this year. We have implemented a new grading program called Jumprope. You will be hearing more about this at our Open House. All students' scores will be located there. We will no longer be using IC. You will get a login and password for Jumprope as the year progresses. We will be handing out students schedules at the Open House as we are no longer asking people to sign in to IC. Please consider this your student's schedule until we see you.
Please consider this your child's schedule until open house.
6th Grade

7th Grade STEM

7th Grade

8th Grade

Allyson Collins - Science

Candice Moan - Math

Zach Miller - Social Studies

Dave Mulcahy - Writing

Matt Reutershan - Reading

Jen Richardson - Special

                                       Ed.

Crystal Cloutier -

    Math and  Science

Andrea Tyler -

   ELA and Social Studies

Megan Anderson and Deirdre Dosedlo -

  Special Education

Lori Lindsay - Science

JP Lambert - Math

Aimee Lanteigne- Social Studies

Kathy Kauffman - ELA

Megan Anderson and Deirdre Dosedlo -

  Special Education

Marion Holmes - Science

Ben Redstone - Math

Andrew Oliver- Social Studies

Tracey Remington - ELA

Megan Anderson and Deirdre Dosedlo -

  Special Education
You will notice that we have two separate 7th grade teams this year. One is more traditional, the other is based in STEM. STEM students are receiving a more integrated education with the focus on engagement. STEM teachers have received a lot of support, along with training from Husson College, on the premise of combined units of study as well as hands-on realistic lessons based on the same standards and rigor as all other 7th grade students. We are committed and focused on finding ways to engage 100% of our students 100% of the time. We hope to have this as an option for our 6th graders and 8th graders next year.
In order to be sure that all students receive the education that they need, we have started an essentials class for math and ELA students. These co-taught classes are scheduled to be smaller. With more assistance and smaller class sizes, we are hoping to be able to create opportunities of success with students who have not seen success at school. Along with the essentials classes, we are also offering GT support to those students who have shown repetitively they are high achievers. With the focus of the building being engagement of students with the curriculum material, we are hopeful these changes will result in a more positive experience for your student.  
The one thing I want our community to understand more than anything else, is that educating the students in our community is a job for us ALL. We need to work together to make the learning environment a safe, secure and welcoming place for all to learn. If you have any questions please call the school.
Sincerely,
Benjamin Wilson, Principal