Enrollment for 2017-18 School Year
August 2nd, 12:00pm to 6:30pm
August 3rd, 8:00am-12:00pm and 1:00pm-4:00pm
High School Commons
New Student Enrollment
We welcome our new families and students to the Belle Plaine School District.  Please contact the District Office, 620-488-2288 if you have questions about the district.
Student enrollment will be on Wednesday, August 2nd between 12:00pm to 6:30pm and August 3rd, 8:00am-12:00pm and 1:00pm-4:00pm at the High School Commons (please note we will close for lunch on the 3rd).
Please bring birth certificate, social security card and shot records to enrollment.
Returning Students Enrollment
Returning students may use the online enrollment process beginning July 26th, 2017.
An email account must be linked to your student's account to start the enrollment process. If one has not been acquired, you can contact the district office for assistance at 620-488-2288.
Additionally, stations will be set up at the school's open enrollment dates at the High School commons if you do not have access to a computer.
Kansas All Star Scholars Reward Cards
All students in grades K-12 enrolled in Belle Plaine School District will receive a $100 educational reward card to be used for school enrollment fees and/or at area merchants to purchase back-to-school supplies, school clothes, and shoes. The $100 educational reward cards are distributed at the High School commons during enrollment. Parents must turn in receipts from the reward card purchases by Sept.15th.
Sports Physicals
Dr. Roy from Advanced Wellness and Rehab will provide sports physicals for 7th-12th grade students who plan to participate in athletics on August 3rd, 1:00pm to 3:00pm at the High School Commons. The cost will be $20. A downloadable/printable physical form is available here or copies will also be available at enrollment to fill out.
District Forms and Policies
Students, parents and guardians will be asked to agree to district policies during the enrollment process.  Additional district forms are also available from the district website.  Please click on the following link to preview these documents prior to beginning on-line enrollment.
Instructions for Online Enrollment with EZ School Enroll
Go to

https://www.ezschoolenroll.com

 to begin the enrollment process.

Please click on the REGISTER button towards the bottom of the screen.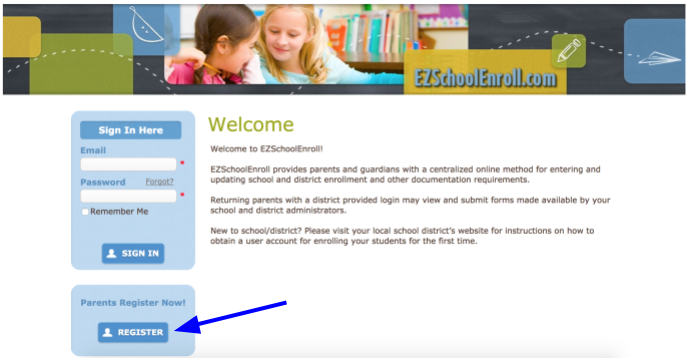 3. If you are re-enrolling your student please click YES. New student enrollment must attend open enrollment sessions at the High School Commons on August 2nd or 3rd.

4. If you know the email address associated with your student account please type it in the box and click NEXT.
Please click PASSWORD RESET and then visit your email to reset your password for your account. You may continue to step 5.
B. If you chose the option Not Sure About the Email then you must fill out the following screen about your student.
C. On the next screen you will see the address associated with your student. If you recognize the email address then select it and an email will be sent to that address. You will then go to your email and follow those instructions for resetting the password. If you do NOT recognize the email account shown, then you must contact the school.
5. Once you have reset your password from the email that was sent to you then you may return to https://www.ezschoolenroll.com and login with your email and newly created password.
6. You will want to choose My Forms to begin enrolling.