Downloading a Single Page (High Quality)
| | |
| --- | --- |
| If you want a high quality version of one page image from a book, you will need to use BHL to identify the page information and Internet Archive to download the page. You need to find two things before you can download an image: the page ID for the page you want to download, and the list of image files from which you can get the page. | |
Finding the page ID
Take note of the page information you want—page number, etc.

Click on

Download Contents

button (right side of the screen), and select

View at Internet Archive

.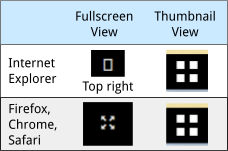 Navigate to the desired page by clicking on the page images, using the information you gathered at the beginning of this process.
You can

also enter fullscreen mode and navigate faster using the scroll bar at the bottom or using the thumbnail view.
Right click on the page itself (or Command + click on Mac) to identify the image file address. D

epending on your browser, click on the appropriate option in the menu:
Internet Explorer:

Properties

Firefox:

View Image

Chrome:

Open image in a new tab

Safari:

Open image in new tab
Look for a 4 digit number followed by ".jp2".
Internet Explorer: Look in the filename near the top of the box for the ID.

Firefox, Chrome,

Safari:

In the new tab, near the end of the address, you will find the picture ID (usually in front of the third .jp2 in the URL).
Record

this number to use later (while downloading the image itself).
Getting to the list of image files
Go back to the original Internet Archive tab, with the page viewer, and find the

Download

options.

IMPORTANT:

Right-click on

Single Page Processed JP2 ZIP

.

Do not left-click on the link unless you would like to download a .zip file containing all of the page images for the whole book.

After right-clicking on the link, copy the link address.

Internet Explorer:

Copy shortcut

Firefox:

Copy link location

Chrome:

Copy link address

Safari:

Copy link

Open a new tab in your browser and paste the address into the address bar. (Keyboard shortcut for paste: Ctrl + V)

Before pressing enter

, put a "/" at the end of the URL. If you don't have the trailing slash, you will download the whole .zip file.

The final URL after all the copying and pasting should look something like this:

archive.org/download/bookID/ bookID_jp2.zip/

Hit enter to go to that page, and you will see the list of individual image files.
Downloading the image itself
Using the 4-digit picture ID number for the page you want, find the file and click on "jpg" next to the file name. If you

would like

the JP2 file (which is the highest res

olution available

and requires

certain

software to view), click on the hyperlinked file name itself.
Don't know what a JP2 is? Visit our JP2 information page at

http://biodivlib.wikispaces.com/JP2+How+To

to learn more.
Right-click on the image and select

Save image as

, then select the location you would like to save it.

Enjoy your high

quality

image! If you want more information on how you can use your image and stay within copyright, visit our copyright page at

http://biodivlib.wikispaces.com/Licensing+and+Copyright

.