LPS Innovation & Learning Coach MEETING AGENDA
2016-2017
Comments for Next Year:
The Feedback Process Book Study
Coach Meetings:
Would like consistent focus on coaching during our meetings. Have it be the first hour of our meetings, use the evaluation doc as a guide for topics

Use the community again. Post articles and coaching items, keep sharing through the community.

Terms for VL work: proficiency guide => single point rubric (TK convo)
COACH EVAL CHANGES FOR 2017-2018
Adding coaching survey (for data and reflection)

Tara's Exit Survey

Add evidence to the eval evidence template (share the Gerber notes on data collected)

Change cycle reporting to Ashley's frame
New Coaches:
Assign a coach mentor to the new coaches. Work together to understand the district, coaching model, various roles.
May 24 - May 31 (5 days) *Daily Agendas on 2017-18 Coaches Meeting Doc
We need to finalize who is traveling/presentations

New coaches/mentors to Student-Centered Coaching
Balanced Literacy PD

NTII

Coaching Academy
New Teacher Planning-Sara Burke-wants to meet with K teachers

New teacher google mail

What do we think about possibly getting a parent panel to talk about what they want for communications?

New teachers and calling the parents - we need a workshop

What about possibly having social worker come to NTI and help with the mental illness piece? The combination between getting too close and knowing boundaries. Kendra Calloway has a training for something (was talking with Cathy Mendez) but know that social workers would be interested in some kind of partnership

Daily Agendas - Agendas shared on Canva with editing rights. Feedback: Format/ color changes? New content or changes? Should we do 'LPS Faces of Leadership' every day? Thoughts on Twitter challenge?

JW- Ask Bob V to host an acronym game

Common Acronyms/Terms:
PLC (Professional Learning Community)

IEP (Individual Education Plan)

504 Plans

RTI (Response to Intervention)

BIST (Behavior Intervention Support Team)

MAP (Missouri Assessment Program)

EOC (End-of-Course Assessments)

APR (Academic Progress Rate)

Standards Based Reporting

CSA (Common Summative Assessment)

Inform
PDP - required in our program, not building

Principals will communicate the PDP process with new teachers
Classroom management

Diversity - need to have NTII (Precious Kurth) Discusses classroom equality gender/race/abilities;

What is our goal for her time?
Effective Instruction

Learning Targets

Student voice and choice

High engagement
2 year plan

Identify

priority indicators
After 2 years of being mentored, what are the priority indicators?

(we need to come up with the list and publish)
Mentor Handbook - update this summer and

tag with being aligned with the new law

Systematic and specific

Aligns with CSIP

Has outcomes for new educators (month to month list)

Extension or part of of PD plan for the district

Have to have one visit required

Need to update the handbook

Mentor Handbook update
May 19
Build instructional leadership/Build coaching capacity

Build trusting relationships with colleagues

Understand change dynamics

What communication strategies can a person use to build healthy relationships with other professionals?

What leadership skills enable change efforts in school?

What is the most effective way to manage the complexities of helping adults?

Acquire coaching behaviors to support their work with individual and teams of teachers.

"Teacher leaders can also be catalysts for change, visionaries who are 'never content with the status quo but rather always looking for a better way'. Teachers who take on the catalyst role feel secure in their own work and have a strong commitment to continual improvement. They pose questions to generate analysis of student learning."

"Regardless of the roles they assume, teacher leaders shape the culture of their schools, improve student learning, and influence practice among their peers."

Student centered leadership- coaching, data teams, student centered instruction
How do we envision this playing out?

Top Contenders offered a place first

What is our scope of work?

Helping guide thinking/build capacity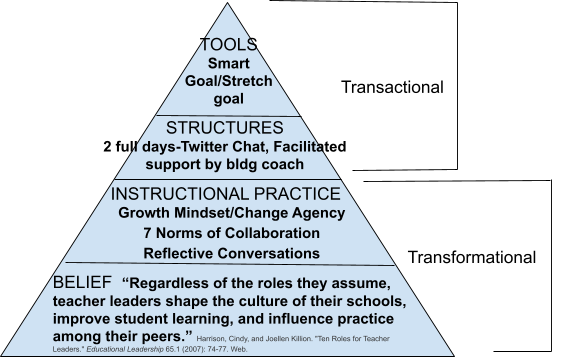 Title of the group:
Instructional Leadership Posse

Building Instructional Leadership Capacity
Description for the help desk:
"Regardless of the roles they assume, teacher leaders shape the culture of their schools, improve student learning, and influence practice among their peers." The Instructional Leadership Posse is professional learning to develop instructional leadership capacity, exploring change agency traits and practices, and learn more about instructional coaching.
Description

Day 1 outline

Day 2 outline

Focus: Culture of their school

How do you put yourself out there in your building to instill change?

Growth mindset

Sharing platforms

Focus: Improve student learning

Analyzing data for student growth (data informed decisions)

Protocols

District data, how to use it effectively?

Learner Agency

Focus: Influence practice among their peers

How to navigate instructional conversations (relationships)
*Structure includes personalization for teachers with coaches follow-up after sessions
Possible resources
May 15
May/June

Susan's Birthday (May 16)

Scott's Birthday (June 9)
Complete

Coaching Numbers

prior to Summative Evaluation

Revise Info for New Coach (check for broken links, access to attached documents)
OER - anyone can use it, but it doesn't mean it is GoOpen

Committed to creating curriculum that uses online resources in lieu of a textbook for health only -
Question -

pre-service

… what is our desired requirement for what we should provide - is it pre-service, other district PD time, per building decision?
Should we go into independent reading strategies?

Confer, goal set, keeping students on task
Goal/Intention

How do we envision this playing out?

Top Contenders offered a place first

What is our scope of work?

Helping guide thinking/build capacity
Interview info: May 9th (12-5) and May 8 (12-5)
Early literacy skill set

3-5 lens

Collaborative

Good fit

Why doesn't Jeanette know you?

Have you been coached? If not, why?

What other ways do you learn?

What is your professional impact teacher? What do you deliver?
`
April 28
Who is one student you will never forget from this year and why?

Who is one person who provided you amazing support this year and what did they do to make you feel supported?

What is something you have really enjoyed about LPS?

What is something LPS could improve?

What is one word to describe your year and why?
New teacher half day to do list
Ask Terri- Order donuts/cookies for new teacher half days

NEED TO PRINT THE PAGE in MENTOR HANDBOOK

Make Copies of

9 mistakes new teachers make

Make copies of the handouts

DOC

Compose email to send to new teachers
Explain Visible Learning Schedule (assessment aligned to learning targets)

Need to be out of BYOC June 30, 2018 so work on pulling documents.

Publication review items

Talk through eclipse (Mary Coogan)

Elementary Proficiency Guides-need to go over them

CC meetings during pre-service
Let Science Drive Reading Instruction

(Tim Goral)

Shared Google Calendar - you should have access to edit & add events. Please add any upcoming events.

LMS pilot-Schoology, Canvas, Google Classroom
April 17
April

Get to Know You

Matt's Birthday (18)

Bring Most Hilarious Prom/Dance Photo

Brandon-Card and Treat on April 17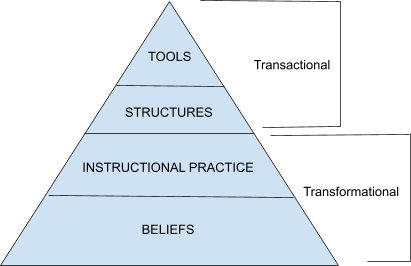 What are you going to do to develop shared beliefs?

What supports will we provide? What do we need to do to shift practice?

How do you prepare for changes in structures? How do you prepare for changes in tools?
LPS
5 Vision Priorities
Growth Mindset

Personalization

Learner Agency

Data informed decisions

Relationships
Lebanon Coaches visit 10-2:30 (Decide where to eat lunch)
Take Aways
Coaching System

What is student centered coaching?

How to meet the needs of the whole building?
Here is the information from Jay Roth
We will be bringing all our coaches. There are only 5. One is a district tech coach. There has been a PK-1 Literacy coach in the district for over a decade in our PK-1 building. There are two first year instructional coaches - one at 2/3 building, and one at 4/5 building. Also this is the third year for a grades 6-8 MS instructional coach and our primary model is navigating CC in the real world of schools.
I'm unfamiliar with Student-Centered (Sweeney) coaching, but our tech coach (primarily at HS) was so impressed that she really wanted us all to see what you do. As a fledgling coaching group (not even department), we are seeking to learn what successful models do!
With respect to OER, we are (again) new to the table with looking at these resources as we work with curriculum and curriculum teams. A specific question that comes to mind is given the vastness of possibilities, how do you monitor the OER resources to ensure that the rabbit hole of OER options aren't turned loose?! How do you ensure proper vetting? How do you determine WHAT to share yourselves?
10-11:30 Group discussion including OER questions
11:30- 12:30 Lunch
1- 2:30 Observations (please sign up)
Coach

Building

Observing

Tara (High School)

North

Josh World History cycle- in classroom (as soon as we arrive until 1:30)

Scott (Middle)

Heritage Middle School

600 W. Kansas St.

Science 6 team - lesson design (1:16-2:01)

Ashley (Elementary)

Ridgeview

701 Thornton St

1:20 Data Review (End of Cycle - Music Literacy)

Jamie (Elementary)

Manor Hill

12:30-2:30 open time

My teacher rescheduled but we can chat, share resources, Q&A
March 31
8:00-9:15:
Book study (Chapters 4-5)

NTii 2016-2017 Forum
Elementary: May 16th from 12:30-3:30, SLT visit 2:30-3:15 (questions/rotation)

Secondary: May 10th from 7:30-10:30, SLT 7:30-8:00 (donut and intentional conversation)

Plan New Teacher ½ day / Promote (MLP sign up)
(emailed slides from LS parent camp)
NTII

Preparation Calendar
9:15 -Springfield Coaches to attend. Will be with us for the day.
Share out our coaching model-answer questions (panel conversation)

Share our evaluation tool/structure (Schedule summative with Jeanette-(May sometime) Bring Unit of Coaching and PDP completed ready to upload when you attend your summative.)

Tri-share: Bring or link a research/article below that you have used in a cycle with a teacher.
After lunch-Observing coaching in the afternoon-list name/building/time
11:30- 12:30 Lunch at Margaritas
Coach

Building

Time

Tara Harvey

North high school

1:40-2:25 new teacher

Carrie Gabriel

Discovery MS

800 Midjay Drive

Liberty, MO 64068

12:45-1:30 ELA argumentative paper initial planning

Jamie Ackart

MH

1400 s. Skyline Drive

Liberty, MO 64068

12:50-1:40 2nd grade Developing success criteria/goal setting for writing

Ashley Duvall

RV

701 Thornton Street

Liberty, MO 64068

736-5450

2:00-3:00 3rd grade

Data analysis to determine instructional grouping (Reading)
Coach Documents (shared with visiting districts)
Where do we keep notes for new teachers?
March 13-PM meeting
| | | |
| --- | --- | --- |
| March | | |
1. You are invited to write a note of appreciation to someone-doesn't have to be a coach.
1.5 Presentation
Good morning Tara! I attended your session at the Learning Forward conference. I was so excited to learn about your district's coaching model, especially at the secondary level. After passing the information on to the other coaches in my district, we were all wanting to learn more from you. You mentioned the possibility of schools visiting your district. Is this something we could set up before the school year ends? I know things are getting really busy with testing so I know it may be difficult. If you could let me know if this is something you guys have time for and if so some possible dates that may work for you, we would love to try and get together. Thank you and I look forward to hearing from you.
Stephanie Embry
Instructional Technology Coach- I need to reply!
Team to Team- April 17
2. Look at PD Schedule for 2017-18
Offering 10 sessions (coaching in the buildings)

Provide a session and then demo teach in buildings

More info to come later
Elementary CC Aug. 23-VL assessment

Secondary CC Aug. 24-VL assessment

Pending dates in January-TBD (Jan 17/18 or 23/24)

Heads of state-provide windows of time to sign up
August 3-4

Collect evidence-bring in December

December 4

Dec 5-6 each building will have an appointment (coaches are a part of this) 1 hour per building

Buildings get a ½ day (coaches are a part of this-drive Kara)
January 29-February 2

Feb. 5-9
Fine arts- try to focus some work with them

Curriculum Council with Kara-23/24 of January (Jeanette is pitching the 17/18 instead to avoid sub issues)
Cohort 1.1: attendance optional Oct. 23-26

Cohort 1.2: attendance optional January 8-11

Cohort 2.1: Nov. 27-30

Cohort 2.2 Jan 22-25
Balanced Literacy-planned by coaches/shared within buildings

Curriculum Updates: PD for New Standards Changes? Do we offer Summer Academy again?
How are buildings supporting the work with learning targets/success criteria?

Digital systems (district webpage and google mail)
1st day (Thu 8/10) - building am/Active shooter pm

2nd day (Fri 8/11) - building am/convocation pm

3rd day (Mon 8/14) - dept meetings/pdc afternoon

4th day (Tue 8/15) - protected day-classroom work time

1st Day of School (Wed 8/16)
4. Book Study - Read ch. 5-9. Discuss Chapters 3-5 (read & make notes) - 1 hour https://docs.google.com/presentation/d/1Rn8fyRpPda43q83DHMjb1Kztrdejc0FuCqOhSj2Q6qQ/edit?usp=sharing
Next steps with feedback

Key attributes for feedback

Recognize and select strategies for feedback

Connect and apply research
5. TriShare: Take a picture (and story) of work with a teacher that brought an AHA! Moment/Shift of practice with that teacher.
6. Elevate EDU July 28th (go as a team??)
7. Lisa/Jamie/Ashley share takeaways from South Dakota school visit. Presentation
8. LEADS Site (homepage) - the announcements need to change more regularly. Do we (A) Like the current format of the bursts of information and (B) Do you have anything for the rest of the year you can add to help diversify the conversation? Or are you ok with it being information that I come up with on my own? Could be a good place to share out resources for some of our other meetings that are occurring throughout LPS. http://leads.liberty.k12.mo.us/
9. Next meeting is with SPS coaches. Who has coaching scheduled for March 31 PM that they can observe?
10. John Kitchens posted the DESE professional learning series offerings for June 12-16 in Jefferson City. It appears they are free. There are K-12 offerings.
Sessions:
https://www.edmodo.com/file/view-office-online?id=a88cd41b89169c7512fab8f884c075d0
Registration:
https://www.eventbrite.com/e/registration-for-k-12-professional-learning-series-summer-2017-registration-32597847038
NTII prep-Calendar
New Teacher Retention numbers

(new to teaching) - Beginning with 13-14 class

Communication for...when do you show up, where do you go, dress, etc.
Determine Extra Contract days for 2018-19
https://docs.google.com/a/student.liberty.k12.mo.us/document/d/1rkKpv3-v4kqufK7Tt57b5C03sWHBu0oI8g8JN7dN0yE/edit?usp=sharing
February 27 - Sustained Visit with Alicia (Visit #2)
February 23
Book Study - Chapters 1 -

3

(read and make notes) - 1 hour
Next steps with feedback

Ackart's idea…

Our definition: Process where inputs (communicating) specific info/noticing and moving (drive) toward (at to need to be) desirable outcomes to cause (learning between action and reflection) reflection.
Guided Writing - bring books to use for research - book talk - 1 hour

TriShare Talks - Topic: Best formative assessment you saw recently-bring a story

New Teacher Prep-where, when

Reflect on Diane Sweeney days. How do we want that contract to look next year? Done

PD for Next Year: Visible Learning-August 3-4 tentatively We may need to look at prepping for NTII August 1-2
[X] PDP Mid-Year Review
[X] Invite 1st/2nd year teachers to New Teacher 1/2 Day once approved in MLP
[X] Invite JW and admin to coaching observation (Lisa, Jamie, Ashley)
[X] Tally days out of building - how many? purposes? 1/2 days with teachers separately
[X] Count weeks of cycles - how long are the 4s?
[X] Reminder: Document student evidence of cycles (4s) for Summative Evaluation
[X] Find example of Formative Assessment (by 2/23)
[X] Read Feedback Chapters 1-4 (by 2/23)
February 7-8 Diane Sweeney
Feb 7 - come with video at your sign up time

Feb 8 - meet at NKC - 8:30 start

No meeting on Feb 9
January 23
Set date for New teacher half district days in May - elementary/secondary each have ½ day
Elementary MLP - MK

Secondary MLP - CG
Esther said to avoid May 4th & 11th

Last years presentation-

elementary

Elementary on

Tuesday, May 9th 12:30-3:30 PM

Changed (due to MAP Testing) to May 16 12:30-3:30
January

Get to Know You

Lisa's Birthday (28)

Share New Year's Resolution

Carrie-Card and Treat on January 23
2. Rescheduled dates - thanks to Scott!
Diane Sweeney Days: Feb 7 -video @ LPS/NKC 830
3. Conferences:
Brandon/Matthew-Personalized Learning Summit - May 10-12, San Francisco

Tara/Jeanette/Carrie (maybe Brandon)-Denver Coaching Conference May 21-23

Jeanette/Tara-Learning Forward-March

Jamie, Ashley, Lisa-observe personalize learning at a school somewhere TBD
4. Discuss days out of your building - How many really? Purposes? Remedies? No judgement evaluation & planning
Keep a tallied list (specify lab ½ days with teachers separately) of days out of building

Meet with principals every week-if cancelled reschedule right away

Inviting principal to observation this semester.
5. Plan Jan. 25/26 Curriculum Council planning based on Kara Vandas days
6. Balanced Literacy PD-What was shared with admin - Jamie
Goal is awareness. Next layer is guided writing and guided reading in the 21st century. As coaches, we need to be in the learning pit with this. Need to plan how this looks for next year.

Independent writing and reading the year after

Jim Burke Writing Reminders
7. Learning Forward MO Outstanding Instructional Leader Nominee: Tara Harvey (application)
Literacy Professional Development

PDC Co-Chairperson

Redesigning New Teacher orientation

Balanced Literacy PD

Essential Questions & Learning Targets PD
Building instructional practice

Promoting innovative initiatives

Offers a variety of professional development opportunites to her staff through various means (face to face, individual, small group, online, etc)
Has her administration certification

Leader in coaching meetings by regularly sharing research and information she has read
8. Evaluation:
Cycle times-how long are they? Track for this year-want to look at this data. Does the goal chosen influence the time of the cycle? (Count by weeks) Our goal is to define a cycle. How are you defining these-what is the change?

4's-have student evidence (once or multiple times) that we will add to our data collection

When looking at student evidence, make sure something happens from that. Next steps-aha and something to it.
9. Coaching Continuum-may not be in this order/entry points vary
Starts with standards/standards planning (unwrapping)

Creating learning targets/success criteria (content and process target or goal)

Assessments

Personalization or differentiation/learning progressions (grouping based on process and data)

Provide examples or articulate what proficiency looks like (exemplars-scoring guides) have learner agency conversation for those students that are performing

Are the teachers doing this without you?

I can rubric.

Transferable to other courses/content

Teach others
10. Share Feedback from Evaluation conversations: Tri/Share on student evidence. Next conversation: Feb. 23-best formative assessment you have found
Lisa, Tara, Carrie

Jamie, Matt, Scott

Brandon, Ashley, Tracey
11. Book Study for second semester - Feedback (Killion) starting today by defining
12. Unit of Instruction/Coaching use whatever document/template you choose.
13. PDP-reflection will paste it on your evaluation from December
14. Common Sector Competencies - added to curriculum
TO DO:
[ ] PDP Mid-Year Review
[ ] Invite 1st/2nd year teachers to New Teacher 1/2 Day once approved in MLP
[ ] Invite JW and admin to coaching observation
[ ] Tally days out of building - how many? purposes? 1/2 days with teachers separately
[ ] Count weeks of cycles - how long are the 4s?
[ ] Document student evidence of cycles (4s) for Summative Evaluation
[ ] Find example of Formative Assessment (by 2/23)
[ ] Read Feedback Chapters 1-4 (by 2/23)
January 9 - PBL follow up (AM with coaches/PM with admin)
Planning for Sem2

Curriculum Council planning Jan 25/26
January 3-10
Summative conversations with Jeanette
December 19 - Coaching Celebrations Day
| | | |
| --- | --- | --- |
| December | | |
Organize thinking and prioritize issues (LPS application from Lean Lab)

Mid-year reflections

Can we talk about trips? What is our best method to determine who goes where?
Take it back to your admin team:
December 16
Coach Teacher Asked Confirmed
Tara Harvey - Juli Hustoft X
Matthew Krohne - Ashley Allen X (MLP can find her a sub)
Carrie Gabriel- Amber Lierman X
Ashley Duvall- Jaysa Hartman X (pre-arranged sub)
Lisa Gray-Katherine Rettig X (pre-arrange
Scott Heeke- Michelle Beagle X (MLP can find her a sub)
Jamie Ackart- Cammy Neth X (
Tracey Kracht - Charity Stephens X
Brandon Lewis - Natalie Pottier X (MLP…)
December 15
Celebrations:
learning progressions video helped push teachers thinking

Rubric

Grouping students on data-using formative assessment to change groups

Teachers are seeing the value of success criteria

Watching teachers come to realization that coaches have planted seeds for

Data teams at a building are really doing this effectively with ela and now moving into other subject areas.
Principals:
Being a leader that drives learning

Effective PD is/isn't

High effect size

Common Formative Assessment-research based
I can identify what assessment looks like within teacher collaboration

.

I can support the current work (LT/SC, planning, assessment data) through the Data Team process.

I can identify the steps to create assessment capable learners (teacher & student).
I can analyze the use of formative assessment and give feedback or use questions to grow my staff.

I can grow in my understanding of formative assessment.
Learning Target - (what) learning we intend the students to learn
Success Criteria - (how) the measure to which the target is created. What is it that the student has to do in order to be successful. Must be specific to what the student will do/show.
A Visible Learner Profile
Learning Dispositions: Applies effective habits of thinking and doing (Guy Claxton and James Noddingham)

Assessment Capacity: Explain and understands progress (3 questions)

Feedback: Seeks, receives, acts on and gives feedback

Learning Processes: Understand how to learn (surface to deep)
**What is posted as required is SAMPLES**
Start at the unit level with Success Criteria.
Then build the progression-breaking down the standards that build to the overarching standard. If you build the targets with students, choose a deeper standard that they can progress/grow over time.
Both learning intentions and success criteria should come from the standards.
Progression examples video: self assessment (Ideas for Improvement, Things to Celebrate) went to peer assessment next.
November 21 (FULL DAY) - AM Lean Lab
November

Share out one thing you are thankful for in regards to our team

Ashley and Matthew -Card and Treat on November 21

Jeanette wants us to join her for dinner at Chuys
November 21 (FULL DAY) - PM Coaches Meeting
Top takeaways - team works well under time constraints, questions helped keep team focused, human design (test out idea on small group), action-oriented, how do you coach mindset,

communication!!

, not all risk-taking is equal, systems don't solve average, focusing on thinking rather than a task, process of design thinking, coaches could replicate this process, "five whys," synchronicity of the team (can be efficient but need to work hard to think differently), value of feedback (others and self) in process
November 17 - Sweeney Lunch with Coaches
Where do we want to go from here in our work with you?
As a collective group, we feel like we need more work on the following…
How do you know how far to push someone but not push too hard?

Video watching - what trends should we be aware of and what might we be missing?
Formatively assessing the work

Being metacognitive in our work

Don't should on someone

Make your work about kids and kids' learning - number one filter - all the rest of the stuff becomes options vs paths

I notice, I wonder, What if… the notice is always good to focus on student evidence

Give a little grace - missed moves are not bad things.

Are we pointing ourselves to thinking together or are we pointing ourselves to getting people somewhere? Thinking together - there won't be missed moves. Missed moves might signal you are trying to get someone somewhere.
When to pause, when to probe - being more intentional

People will relax when it isn't about you and an agenda, it is about the partnership

Don't play "guess what is in the coach's head"

Maybe instead of watching body language - ask yourself if the coaching conversation was fun? Was there energy?

Always important as a coach to know when to self-monitor

How much of our coaching is coach asking questions to teachers vs teachers asking questions to coach?
Examining student work (best approach, process, etc.)

Reflection on the last two days
How do you determine if the teacher is resistant to ie pretesting? What can you do to break through?

Ask yourself - is this how I would work with (approach) my kids? (in my classroom) - what is the pattern I would have gone through … discovery, curiosity, learn from your learning how does this manifest in your professional capacity?
Everyone needs to have clarity in curriculum

There is a connection with curriculum in coaching but we don't unpack - we USE the targets.

Usually a coaching cycle doesn't have to be a standard

Often you can't coach a cycle into a whole standard because it might be difficult to measure growth as it could be actually measured over an entire semester / year.

Assess the essence of the target - the knowing

Some of our teachers live in the world of standards - if we don't make it the standard, will they be invested in the goal?
Match the duration of the coaching window/cycle to how big/small the goal is

If the standard is precise, that might work, but if it is too big, you might have to make the cycle longer or pick one aspect to drill in.

Might coach into the process (ie a piece of writing for growth)
Our three tier levels:
Next Steps
November 16 - Sweeney Debrief
We would host 30-40 seats in the district

Whoever wants to become a coach in the future

Even if they don't become a coach we build capacity for the mindset of coaching at LPS

One of the rules is you have to be coached in a cycle

Building capacity in teacher leadership

Application or something to determine the participants

Can you use these people to help be mentors in upcoming year
Restructuring how we focus time with new teachers - possibly group collaboration rather than meeting 1-1 outside of the half day

Swag for new teachers - LPS card that sticks to your phone but then it wipes off the phone face

Article - shifting the emphasis from activities to careful analysis of cause and effect relationships - that was about building teachers as instructional decision makers and building their ability to build what the kids need - as coaching we need to continue to build our ability to make decisions based on what teachers need. Growth as a coaching team when we are having conversations how can we continue to build teachers
Instead of what the lesson is - what is the rationale for why we are doing ___ .

The process of providing feedback LPS feedback is becoming more clean, precise, prescriptive … as opposed to empty compliments
Want to work with teachers second semester that hasn't been worked with this fall. List of things to collaborate with to improve in this year

New teachers connection - definitely doing well with the building of capacity

New teachers and differentiating for those who are in the program - how can we improve our NT academy for the various levels of people coming to LPS

What do we do with student teachers? Maybe could you do a cycle with the mentor and ST?

Reminder - the request from principals for people who are transferred between buildings and they aren't assigned to anyone - how are we supporting?

Article - rich drop of food coloring - little drip makes a big impact - you don't have to necessarily push a BIG change…
When you put a carnation in the water, it sucks it up

We do a spray approach in respect to the coaching we do in teacher needs. What if we are intentional as a system… clarifying a specific element (in our story) - that we always put into our coaching piece - how could we impact the whole district? Being intentional is the point
Coaching Questions for Looking at Student Work
What does the evidence from observations and student work suggest about student strengths and continuing needs?

How did our instructional plan contribute to this, what teaching is required to address continuing needs?

Were there any misconceptions or interesting strategies/techniques that students used that need to be addressed? Did you, as the teacher, have any misconceptions?

What can we learn about our students from the work?

What is one intentional instructional move to address student needs for each learning target?
November 7 - Jefferson City DESE PD Series (two cars)
October 27-28 - Kara Vandas/ Bring CFA 2.0 text/Bring samples of a class set of student work
Tracey's Birthday (30) X

Bring Favorite Halloween Picture/Share Favorite Memory

Tara-Card and treat on October 24 X
Preparing for Formative and Summative Assessment Pd in the spring

Have examples of units that we are already working on (from matrix)

Look through 2 lens-what principals need to know, what CC need to know

Tying instruction, units of instruction and assessment together
Planning with Kara:
District requirements for assessment (pre-post)-finalize

Roles of each group in the world of assessment
Is Visible Learning the direction we are going as a district?

Overview of components of CFA 2.0
Model

Pre-assessment, Quick Progress Checks (article)

Success Criteria-3 questions (clarify)
Learning Pit-begin with this

CFA 2.0 Formative Process

Coaching questions for working with teachers on Pre-Assessment

Intro to pieces of research
Ideas:
Option 1-bring in teacher work a day with assessment (16th is a Friday)
Option 2-move cc in January to the morning to have afternoons added for a
full day of work on assessment.
Option 3-Start with Visible Learning Foundation and evidence into action.
January 25-26: ½ with Sec CC, ½ with Elem CC, 2 full day w/ coaches. (do elem. Coaches need to attend Sec CC and vice versa or can this just be time in buildings?
Learning Pit-begin with this

Introduction to CFA 2.0 Formative Process

Bring a standard or unit goal and will write and talk through pre-assessment questions and quick checks

Learning about specifics with types of assessment questions, practice writing.

Template for what is shared with heads of state, what is just for you

Prepare for heads of state
1 day (½ day) in the future-could be next year: give everyone the foundation of the research. (teacher clarity, student ownership of learning, etc) another day look at a matrix-What makes learning visible? Do an inventory. Look for evidence to collect. Set goals based on evidence.
October 24 - ILC Meeting - CANCELLED DUE TO KV MEETINGS
October 10 - ILC Meeting
Collecting student evidence

Ashley - Learning Targets, pre-assess, grouped students based on the results. Noticed targets are missing so that is the assignment. Showing growth

Lisa - Use a google form to fill out anecdotal notes
September 26 - ILC Meeting
Revisit the beginning and the end (lit framework), Looking at the forest and the trees

(Purpose: Goal of balanced literacy is for kids to read/thinking independently using strategies in all classes) BL=Scaffolded
Excited, Need to Know, Stance, Worried About
What are you EXCITED about?

What do you feel you still NEED TO KNOW?

STATUS CHECK...What are you feeling toward Balanced Literacy?

What are you worried about?
Essential Standards are the home base for curriculum links

Small groups - check selected classes and inform the checklist
What items are critical to include for curriculum development? Create a checklist. (Elementary Lead-Lisa)

Elementary-share idea of pacing SSELA, SCRAT, MATH, CC together (Elementary Lead-Matthew)

Acknowledge Curriculum Team Members are responsible for updating the CC members (Elementary Lead-Matthew)
Coherence

Chapter 1

Tracey/Tara
Set larger goals from a leadership standpoint

Help articulate the vision and priorities of LPS
Decide on plan for Coaching Observations (October)

Schedule time (1.5 hrs) with JW for observation (includes pre-brief/debrief)
Send her an outlook invite

Blackout days JW not available- Oct 6,7,10,11,12, All Mondays, 25-am 27, 28
External review team during April

Self assessment, survey, data, executive summary, assurances

Reflection is the key- reviewers will look for inconsistencies

Accreditation stamp in addition to MSIP
ALL GRADES & CONTENT AREAS - Balanced Literacy – 3 hours (8:00 – 11:00 or as otherwise posted by building)
PRINCIPALS DETERMINE HOW TO MONITOR LEARNING TARGETS
Learning Targets for this session:
I can locate and classify the reading levels of all my students.

I can research strategies to use for vocabulary instruction in my classroom, and I have planned for at least two different activities or strategies that I will use this year for Tier 2 vocabulary instruction. (RTI Tier 1 instruction)

I have identified and planned for two instructional strategies to use for shared reading with my students during the first semester. (RTI Tier 1 instruction)

I have researched, identified, and planned for one instructional strategy that is SPECIFICALLY to be used with struggling readers in shared reading. (RTI Tier 2 instruction)

I have located and planned with my grade level, department, or course level team on how and when to use the 3-STEP LESSON PLANNING GUIDE for SHARED READING and 3-STEP LESSON PLANNING GUIDE for VOCABULARY for my classes.
Need support
Got it- haven't started
Got it- Working on it
September 20-22 - Diane Sweeney PD
Tuesday - AM with Secondary (8-11:30)@NKC- meet at 7:15 @ DAS
PM with Elementary (12:30 - 3:30) @LPS
Wednesday - @NKC all coaches (8:30-3:30) AGENDA
Thursday - @LPS with LPS only AGENDA New Link to AGENDA
AM with New coaches (BL, CG & TK) 8-11:30
PM with all coaches 12:00 - 3:00 (bring your lunch if you haven't eaten yet)
September 12 - ILC Meeting
September

Get to Know You

Tara's Birthday (18)
Remaining days see schedule above.

Unpack "

Create systems for teachers to share ideas and resources with one another" what does this mean to
Book study

Coherence-

set dates to discuss/who is the leader -

JW order. Assign chapters.
Chapter 1 - Tracey/ Tara (9/26)

Chapter 2 - Ashley/ Matthew (10/10)

Chapter 3 - Brandon/ Jeanette (10/24)

Chapter 4 - Lisa/ Jamie (11/7)

Chapter 5 - Carrie/ Scott (11/21)

Chapter 6 - All (12/5)
asking challenging questions (not just yes/no questions)

giving students complex, demanding tasks that require persistent effort, concentration, and various cognitive and metacognitive strategies

requiring students to determine what makes an argument valid, assess possible solutions, categorize problems, map concepts or explain a worked example

asking students to justify or evaluate their thinking (or other's thinking)

asking students to generate questions and problems, independently collect and assess relevant information in the content and come to an extended conclusion/justification that works to solve complex issues
MLP titles for New Teacher Observations, outline observations for new coaches -

Just decide: "New Teacher Lab / Coach's Last Name / Date"

Elementary Coaches need to chat with JW about Curriculum team work
Curriculum for this year

Managing Expectations:

HB1490
Land on 10 essentials-crosswalk Not publishing to BYOC- so where? HERE

Document

Unpack essentials-what does that look like? Does not go into a template. Critical elements must be there.

Scope and sequence, essential question,

OER is making this work look "messy" (we love messy). Have to get to a place where we publish-HS gov and

MS science

have great examples

Curriculum Council
Personalization through team teaching

LC Sped and Reg Ed are co-teaching

Our focus is on the coaching of a MH teacher
August 22 - ILC Meeting
3 remaining Coach of the Day

Evaluations - process, documents, notes, etc.
Trait II (Understands How to Work with Adult Learners): Continually listen and respond to the needs of teachers

Trait V (Skilled Facilitation): Anchor conversations in student work

Trait VI (Maintains a Learning Stance): Create systems for teachers to share ideas and resources with one another

Trait VII (Reflective Dialogue): Listen (avoid talking too much or making too many suggestions that may overwhelm teachers)
Keep in mind call for presenters is usually 6-9 months in advance

What

are we wanting to learn as a team?

Conferences:
Coaches must support them too.

How can we support PE and International Languages?
What do we see?

How can we use this?
August 9 - NTii
August 8 - NTii
August 5 - NTii begins (LNHS)
August 4 - NTii Set Up @ LNHS - finalize all details - 410
Morning Agenda:
8-12 Work on sessions
12-1 Lunch
1-2 LNHS
Afternoon-Set up at LNHS
August 3 - ILC Work day (building #2)
August 2 - ILC Work day (building #1)
August 1 - ILC Planning (district) - 409
8:00-9:30 Planning NTI
9:30-11:00 Break out and plan individual sessions
11:00-12:00 Lunch
12:00-12:15 Coach of the day
12:15-2:00 Go through all of the sessions and share out what is going to be
2:00-3:00 Bring building spreadsheets
-Talk about 4, 3, 2, 1
New teacher support doc on website
New teacher meetings to plan: weekly, monthly, Half days
July 29 - 408 (not a required contract day)
OER Diagram
July 28
Go Open Regional Summit
July 27 - 408
Share 3 Coach of the Day profiles
Go through day by day plans for NTII
Mentor Training-plan Carrie Gabriel- done
Advisor Training-Tara Harvey - done and sent to principals
AFTERNOON - Set up for #GoOpen Summit at LNHS
July 26 - 408
Elementary Coaches-PLTW LC Teacher Training @LC (8:00-12:00)
8:00-8:45 Secondary discussion of PS session
Know your Students, identify markings and labels in PowerSchool (9:00-9:45) - Tue 8/9
8:45-9:30 Mentor Training and Advisor Screencast
9:30-12:00 Love and Logic, 6-8 and 9-12 Inspiring Learning that Matters
12:00-1:00 Lunch (WORKING)
Collaboration with district/helping each other

We are learning together.

Preferences/needs/schedule parameters:
Dates for the year-align calendars/bi-weekly meeting dates/outlook invites. Determine book study plans for the year.
Start August 29

Mondays 8-12
Coaching Goals:
We want to get to 60%

Student work
Lines up with work in PBL

What is the impact on this?
1:00-1:15 Share 3 Coach of the Day profiles
1:15-2:00 Tolerate Jeanette asking a million questions.
Look on list-principals are checking.

Can't have a new teacher arrive, when we aren't aware.

BTAP-first and second year teachers only (required to turn in doc for pd hours and mentor proof) needed to update certificate.
Get a mentor for year 1

Get coach for year 2
Get an advisor (2+)

Few teachers that are hired late, must attend NTII the following year.

Counselors, SLP not in BTAP

Everyone shows up-day 1
11-12/11:30-12:00

Set up a schedule/send an invite

How do we want to invite? How often?
New coaches protocol-have we completed all of the steps?
Step 1: Celebration
Step 2: How your buildings are notified about your transfer? Reach out with a welcome.
Step 3: Send them a welcome letter
Step 4: Determine book transfer date-prioritized list by current coaches
Step 5: Fill out calendar-extra days contract
Step 6: Tour the buildings-mentor/Dr. Westfall can facilitate
Step 7: New coach fills out name, cell phone and superpower in coaching contact doc
2:00-3:00 GoOpen Meeting (410) - Jeanette
July 25 - 408 (Coaches Retreat)
8:30 Welcome-Pass out Shirts. Outline goals for pre-service work. Prioritize items for each day-list is below in the parking lot.
8:41 New Teacher Innovation Resources
9:00 Share out 4 Coach of the Day Profiles
9:15 Team building activity: Collaborate to develop team norms/jobs/goals. Share culture events for the year. Starbucks Experience
10:15 Water Pong-2 teams
10:30 Break
10:45 NTII prep
11:30 Head downtown-Harry's Country Club for lunch (12:00 Reservation)
12:00-2:00 Eat**
Lunch convo topic: Should our team apply for this award?
2:00-3:30 Break Out KC
3:30 Travel Home
New teacher Schedule of Events for Training
Parking Lot
New Teacher Institute - what do we have to finish … please leave below the image of the day's agenda. I need to wrap my mind around what we all are taking.
Plan August 5 8:30 Get to know you activity

Plan/Revise- Investing in Relationship Sessions

Plan Curriculum/Instruction Presentation (Aug. 5 afternoon)

Plan August 8 8:00 Icebreaker

Plan/finalize We are Digital Sessions

Gather ideas to share for Inspiring Learning that Matters sessions (grade levels divided out)

Elementary Coaches-Plan make-up training for PLTW modules 1/2

Secondary Coaches-Plan Powerschool follow-up

Follow up with Teri-Lunch for new teachers (Tuesday Aug. 9)

Stuff "swag" bags. Check with Jeanette-swag (bag)

Create a video for Advisors

Copy grant document-Lisa and Jamie

One common email to principals about Mentor Training

Do we need to follow up with Executive leadership team members about dates/times they come to NTII? Jamie is contacting them.
Note: I'm working with regional educators via ElevateEDU to create new teacher support by building networks. I have volunteered to host a twitter chat likely in September … more info coming soon! Hashtag: #ElevateNT