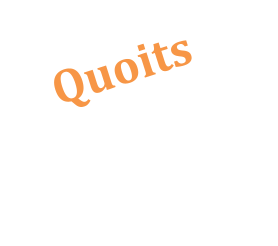 The Quoits Tournament will begin promptly at 12:00PM, Saturday, October 20, 2018.
Participants in this tournament cannot participate in any other tournament except for human foosball.

Seeding will be

random

.

Once a team signs up, there is no refund for any reason. If a team fails to show up at the designated time, a forfeit will ensue for its remaining matches.

Each team is guaranteed two games.

The team that appears on the top line of the bracket will throw first.

The decision of the judge is final. If the judge is a participant, find a judge from the closest possible game to make a decision.
The Game:
Players will line up opposite each other.

The game will last until someone reaches 21 or reaches the 20-minute time limit. Teams must win by 2.

Players will alternate throws until all quoits have been thrown.

Team with the highest score on the most recent round, throws first for the next round.

Ringers cancel points.

Closest quoits count as 1 point and leaners count as 2 points.

No "light" can be see between the quoit and the board in order for a point to be awarded.  

Quoits that bounce before hitting the board do not count.

Quoits must land right side up to count.